Activities/en/
From Help.4pm
Jump to navigation
Jump to search
List of activities
The list of activities is a list of the most common business processes within the organization that are necessary for the implementation of various projects or tasks. The use of activities simplifies defining the tasks - a general activity is selected from a list of activity and manual description of tasks is not necessary. Unified use of activities allows the analysis, standardization and optimization of work processes. List of activities is often used as support tool for implementation of ISO standards.


The list of activities is essential for the planning of tasks and milestones on projects. When an individual reports on work performed, he or she chooses from the list of activities.

Attention: You will need your own list of activities. If you would like to prepare it, we suggest to use your list of typical project activities, list of ISO processes, description of work positions...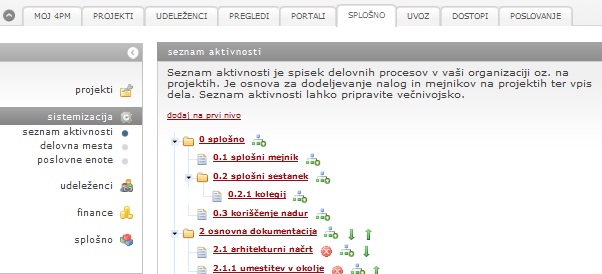 How do I prepare my list of activities
A list of activities can be optionally structured. Level one is added by clicking the link "add to the first level". A form is displayed and you enter:

Name – name of the general activity
Description is not an obligatory field, but you can briefly describe the activitiy.
Type: when defining the type of a project, you choose whether the activity entered is a project or non-project work. HINT: if activity is defined as a project work, it will be displayed only when allocating tasks for a project. If the activity is marked as "non-project work", you cannot link it to the project.
Project types: with each project activity you can mark which project type you want to have this activity offered as a task. You can mark more project types.
Absences
Module Holidays (on)

Various holiday types must be set in advance. Each employe has preset number of available hours for holidays for each year.

regular holiday (paid): use of regular holiday is subtacted from available number of holidays (holiday from previous year and current year)

extra holiday (paid): use of regular holiday does not affect available number of holidays

sabbatical (paid): available number of sabbatical holidays is set individually.
extra unpaid holiday: no avaliable hours (for reporting purpose only)
collective holiday: planning and reporting holidays on organization's level.
Cofinanced absences

Only for co-financed project reporting. Co-financed absences are not eligible cost (i.e. child care in Slovenia)
Activity duration
General project activites can have preset duration in month, days, working days, and hours. When you use activitiy on a project task, 4PM suggests task end date (based on start date and activity duration).
Duration can be set in :
months,
days (regular day or working days – without holidays, weekends that are set in working calendar),
hours,
When you add new task or edit old one, 4PM calculates the duration. If activitiy does not have preset duration, you can use the module freely.

Editing of list of activities
List of activities can be edited. To rename the activity click on the name of the activity to open pop-up form. Activities can be moved up or down by arrows, always within its level. New subordinated activity can be added by clicking the icon add.
Activity can be deleted if it has not been used.
When you add subordinated activities, application copies properties (project or non project work, project type) of parent activity.
Support for ISO Standards
List of activities you can be added descriptions and instructions for the implementation of various business processes, which can vary between different groups of projects (cost centres, programs, projects). Click the icon

to open form for description:
choose project group (cost centre, program)
use the text field for instruction,
if necessary attach link to document
save.
A new entry is added in the list below. You can repeat this action for each group.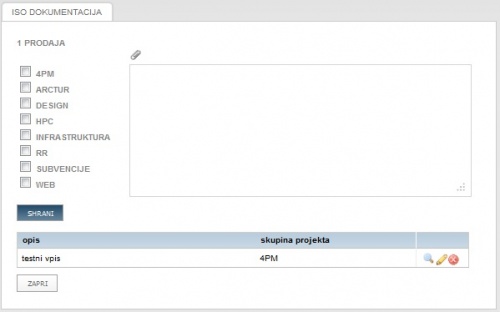 Description and instruction are available by clicking

, editing

, and deleting
.